Presentations
We bring the watershed to you! Our presentations consist of a PowerPoint slide show that provides an in-depth discussion about the functions of a watershed, Hawaiian rainforest ecology, and natural resource management.
EMWP is prepared to present on these topics:
Careers in Natural Resource Management
Informational presentations about EMWP
Classroom presentations on functions of a watershed, native species arrival, adaptive radiation, endangered species, honeycreepers, Maui invasive species, and conservation efforts. (30min or 60min) Add on one of that activities below for a hands-on approach!
Classroom presentation on groundwater and where our water comes from using the ground water model (60min)
Activities for the classroom!
EMWP recognizes the value of Environmental Education in our schools and in addition to an in-depth PowerPoint presentation about watersheds and Hawaiian rainforest ecology, choose from our 3 our classroom activities including a watershed building activity, groundwater model, or our watershed watch musical chairs game(without the chairs).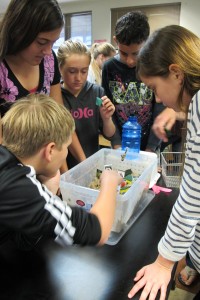 1. Watershed Demonstration Kit: This demonstration was adapted by curricular materials developed by the San Luis Obispo County, CA 4-H Youth Development Program. Students get a chance to make their own watersheds, shaping and changing it from the first lava flows to speciation, to the arrival of humans, and finally to the current state of affairs today.
If you are interested in replicating this watershed demonstration kit or watershed watch game for yourself, click below to download instructions and materials list. You will need Acrobat Reader.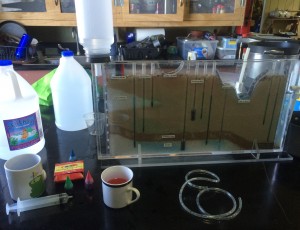 2. Ground Water Model: This demonstration is from the University of Wisconsin and uses a sand-tank model to introduce concepts in groundwater flow, hydro-logic cycle, wells, water table and contamination of ground water and how watersheds help deliver fresh clean water.  This model will help connect your students to where there water comes from and how.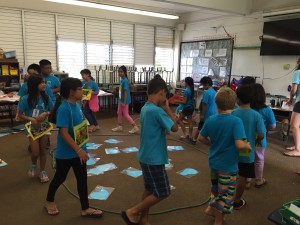 3. Watershed Watch: This game was adapted from the Maunalua Gardens Foundation's ʻŌhiʻa Project/Exploring the Islands.  This activity introduces the hydro-logic cycle and shows the effects on water with different demands throughout the history of the islands. It take you through the beginning of the islands through the introduction of agriculture and invasive species along with population growth.  Different scenarios can play out to show effects from present day.